first started piano lessons at age five at the Yamaha Music School in Taiwan; this is where she began to develop her passion for music. During college she participated in various recitals, placing in many competitions, most notably receiving the Honor Award at the Performance Scholarship Competition of Old Town Music for Piano. She also won first place at the Seventh Annual Piano Ensemble Festival of Fullerton College. Ms. Chen graduated from California State University, Northridge with a Bachelor's Degree in Piano. At CSUN, she studied under Dimitry Rachmanov and performed in master class with Roberto Prosseda. She was a recipient of the CSUN Music Department of the Music Teacher's Association of California, West Valley Branch Scholarship in 2010-2011. Eve has been active as a teacher and performer for over 10 years, and she is currently a member of the Certificate of Merit program (MTAC). Fluent in Mandarin. Vaccinated.
holds a masters degree in Composition from Wayne State University where he then taught for 13 years before coming on board at Neighborhood Music in 2006.
Freelance
pianist,
band leader, composer/arranger and educator, Gary
has
been performing at the piano for over
4
5 years in jazz, classical and pop genres.
www.myspace.com/garyblumerjazzpiano
Vaccinated. Member MTAC
Wednesday, Thursday 1:30pm-8:30pm, Saturday 9am-6pm
Online: various times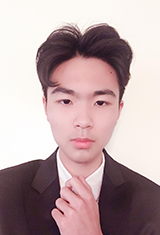 Harry Li
(piano, theory)
started piano along with music theory studies at the age of five. He is extremely passionate about teaching, even as a kid. He had earned the ABRSM piano diploma, a "5" on the AP music theory exam, as well as a "distinction" mark on the ABRSM theory level 7 in his high school years. Harry has been teaching piano and music theory for 4 years. He had mastered the CM theory curriculum, the AP theory curriculum, and the ABRSM piano and theory curriculum. He prides himself as one who can turn complicated or dreadful concepts into interesting and simple analogies to help students understand and memorize better. He wants every student to find the music journey rewarding, successful, and, most importantly, enjoyable. Fluent in Mandarin. Vaccinated.

online only







---
Member MTAC, Royal Conservatory
Monday-Friday 1:30-8:30pm, Saturday 9am - 5 pm, additional availability upon request.
---
Jeffrey Tay
(piano, guitar, voice)
Jeffery Tay is a singer-songwriter, Independent Artist, Producer. Jeffery started learning classical piano a at the age of 10, and shortly after began learning the ukulele and guitar. He majored in vocal studies and holds a bachelor degree from Xinghai Conservatory of Music where he was awarded "outstanding graduate student." After graduation, he signed a contract with a Chinese label to be a singer and songwriter and released two original albums between 2013-2015. Soon after, he released 4 original singles as an independent artist, producing his own music videos, one which was pitched by MTV Chinese Channel and aired for more than one year. In 2018 Jeffery moved to Los Angeles and graduated from Musician Institute with a Certificate in Independent Artistry.
He holds awards as Top 4 in "The Guangzhou Foreign Language Singer Competition" (2009); Champion of "Budweiser of China Campus singer competition"; Top 10 in Hong Kong TVB "International Chinese New Talent Singing Championship" shows (2012); Top 4 in MTV China channel 'Aloft Star' (2015); Top 4 in Guangdong TV 'Live casting idols of China' (2016) Fluent in Mandarin and Cantonese. Vaccinated.
Monday-Friday 1:30-8:30pm, Saturday 10am-5pm, additional availability upon request.
Jonathan, a lyric tenor and San Diego native, studied vocal performance (B.A.) under Dr. John Craig Johnson and vocal coach Ines Irawati at Point Loma Nazarene University. Before finishing his studies, Jonathan had become an accomplished teacher. At the age 18 he began directing his church choir and by the following year had become the Director of Worship Ministries (Centro Cristiano La Palabra.) In the middle of his junior year of college he had been offered a teaching position at the Recreational Music Center in San Diego. There he created a Vocal Arts Summer program and helped create school curriculums through their school site programs, establishing a vocal curriculum at the Saint Charles Borromeo Catholic Academy. Furthermore, Jonathan has sung with Diego Opera's university partnership program Opera Exposed! and outreach program Opera on Track under the direction of Dr. Nicholas Reveles.
Jonathan has had the privilege of being invited to sing throughout the United States and internationally in Mexico. He made his U.S. Debut with Long Beach Opera, March 2016, in the role of "Wissam" in of Heather Raffo & Tobin Stokes' Fallujah, an opera inspired by the story of U.S. Marine Christian Ellis in the Iraq War. He reprised the role in his debut with New York City Opera November 2016. Jonathan made his international debut with Opera de Tijuana in the role of "Joe" in Gershwin's Blue Monday October 2015. Other roles include Long Beach Opera as "Man 1" in Robert Xavier's west coast premier of Frida (2017); Opera Theatre of the Rockies: "Radames" in Verdi's Aida (2017/scene), "Goro" in Puccini's Madama Butterfly (2017/scene), "Pylade" in Gluck's Iphigénie en Tauride (2017/scene); Lensky in Tchaikovsky's Eugene Onegin (2015/Act 1), Don Jose in Bizet's Carmen (2015/scene); San Diego Opera's Opera on Track as "Don Ramiro" in Rossini's Cenerentola 2016/Act 1); Point Loma Opera Theatre: "Parpignol" in Puccini's La Boheme (2015), "Prince Charment" in Massenet's Cendrillon (2014), "Beppe" in Donizetti's Rita (2014), "Giuseppe" in Loesser's Most Happy Fella (2013), "Aeneas" in Purcell's Dido and Aeneas (2012) understudy for "Camile" in Lehar's Die Lustige Witwe (2012) and "Don Anchise" in Mozart's La Finta Giardiniera (2011). Fluent in Spanish. Vaccinated.
Monday-Thursday 1:30pm-8:30pm, Friday 1:30-6:00,
---
is an experienced soloist and collaborative artist with performances in the United States, Taiwan, and on television. Most recently, Yafei worked as a collaborative pianist with numerous Los Angeles-based choirs, including SUUS Choir, Taiwanese Hai-Yun Choir, and Woodland Academy Choir. She serves as a staff accompanist at CSU Northridge, and regularly accompanies for student competitions and evaluations throughout the greater Los Angeles area. As an active member of the Music Teacher's Association of California (MTAC), Ms. Lin has developed a reputation as a music educator dedicated to excellence and student success, and her students have been recognized for their outstanding performances in the Certificate of Merit and ABRSM. A native of Taiwan, Yafei began studying piano at the age of seven and continued her education at Shih Chien University, where she studied piano and violin. She holds a Master's Degree in piano performance from CSU Northridge, with piano studies under Dmitry Rachmanov, and was the recipient of the Etude Music Club Endowment and the Art Council Music Scholarship. Fluent in Mandarin. Advanced level only.
Member MTAC, Royal Conservatory
Wednesday 1:30-8:30pm, Saturdays, additional availability upon request.
---
recently completed his Master's Degree in Cello Performance at Azusa Pacific University after completing both a Bachelor's Degree in Cello Performance and Humanities degree in 2018. Prior to his time at Azusa, Jared studied with Seattle Symphony cellist Walter Gray, and had the opportunity to participate in masterclasses with both principal Chicago Symphony cellist Stephen Balderston and renown cello soloist Joshua Roman. Jared studied under Dr. Marek Szpakiewicz DMA, Professor Christopher Russell, Ingrid Chun and Suli Xue of the Los Angeles Philharmonic, Karen Dryfus from USC, Glenn Dicterow, former New York Philharmonic concertmaster, and Dariusz Skoraczewski, the principal cellist for the Baltimore Symphony Orchestra. Jared had the opportunity to travel to Zhengzhou, China with a small group of six instrumentalists from the Azusa Pacific University Symphony and Professor Russell. While in Zhengzhou, Jared and his colleagues rehearsed and performed with the Yellow River Symphony Orchestra, performing Aaron Copland's Our Town, Johannes Brahms's Concerto for Violin and Cello in A minor, and Tchaikovsky's Symphony No. 2 in C minor at the Henan Art Center. Additionally, while playing with the symphony, Jared had the opportunity to play for a televised choral competition that took place near Zhengzhou. Jared has additional performed as a cellist and choral ensemble member in both Hong Kong, Xian, and Beijing. In addition to his classical training, Jared has also had the privilege of working throughout Los Angeles as a performing and recording artist. See his YouTube
here
.
Vaccinated.
Wednesday - 2:30pm-4:00pm, Saturday 11pm-3pm
---
Earned a Bachelor of Music degree with and emphasis in Performance from California State University Fresno. Lori also studied with Leone Buyse, Jim Walker, and attended Summer Master Class Seminars with the renowned master flutist and teacher, Frances Blaisdell. With over 20 years of performing and teaching experience Lori is passionate about passing on her love of music to her students through a nurturing environment that emphasizes tone production, technique building, ear training and artistry/musicianship. She believes the study of music enhances every aspect of a young persons development, creativity, sense of accomplishment and future success. Vaccinated.
Board Member MTAC, Member National Flute Association
Online only, various times
---