Lori Richardson
(flute, piano)
Earned a Bachelor of Music degree with and emphasis in Performance from California State University Fresno. Lori also studied with Leone Buyse, Jim Walker, and attended Summer Master Class Seminars with the renowned master flutist and teacher, Frances Blaisdell. With over 20 years of performing and teaching experience Lori is passionate about passing on her love of music to her students through a nurturing environment that emphasizes tone production, technique building, ear training and artistry/musicianship. She believes the study of music enhances every aspect of a young persons development, creativity, sense of accomplishment and future success.
Board Member MTAC, Member National Flute Association
Tuesday 1:30pm-8:00pm, Wednesday 1:30-6:30, Mondays upon request
Esther Yi (piano, Kindermusik)
Earned her Bachelor degree from California State University Northridge in Piano Pedagogy. She had been teaching piano for last 22 years, impacting 4 year olds to adults for over 2 decades. Just a few classes short of receiving her Masters in Early Childhood Education from California State University Los Angeles, she brings a wealth knowledge and understanding of children's minds and musical needs. Former member of MTAC for 7 years. Fluent in Korean.

Member MTAC, Kindermusik Educator

Saturdays 10:30pm-5pm

---
Yafei Lin (piano)
is an experienced soloist and collaborative artist with performances in the United States, Taiwan, and on television. Most recently, Yafei worked as a collaborative pianist with numerous Los Angeles-based choirs, including SUUS Choir, Taiwanese Hai-Yun Choir, and Woodland Academy Choir. She serves as a staff accompanist at CSU Northridge, and regularly accompanies for student competitions and evaluations throughout the greater Los Angeles area. As an active member of the Music Teacher's Association of California (MTAC), Ms. Lin has developed a reputation as a music educator dedicated to excellence and student success, and her students have been recognized for their outstanding performances in the Certificate of Merit and ABRSM. A native of Taiwan, Yafei began studying piano at the age of seven and continued her education at Shih Chien University, where she studied piano and violin. She holds a Master's Degree in piano performance from CSU Northridge, with piano studies under Dmitry Rachmanov, and was the recipient of the Etude Music Club Endowment and the Art Council Music Scholarship. Fluent in Mandarin.

Member MTAC, Royal Conservatory

Wednesday 1:30-8:30pm, Saturdays, additional availability upon request

---
Evan Sanchez (oboe)
Evan completed his undergraduate studies at the Guildhall School of Music and Drama in London, UK under world renowned oboists Nicholas Daniel and Gordon Hunt. He is currently a master's student at University of Southern California studying under Joel Timm. He has also participated in a variety of summer music festivals and academies in Brazil, Canada, and England to name a few. With a passion for chamber music, he has been a guest artist in such groups as Camerata Pacifica and the Kuhmo Chamber Music Festival in Finland. As an LA native, Evan is committed to social justice and has worked with groups such as Harmony Project and Street Symphony, both of which are spearheading social change through music and education. Evan aims to provide his students with a warm, encouraging environment with values rooted in musicality and guiding them to their full potential as an oboist.

Monday-Saturday 1:30pm-8:30pm, additional availability upon request

---
Sean Williams (guitar, bass, ukulele)
Sean has been teaching guitar and bass for over 15 years, working with students of all ages, ability levels and styles. Sean holds a Bachelor of Music from CSU Hayward and is currently a graduate student in the Studio/Jazz Guitar program at USC's Thornton School of Music. Having also studied at the renowned Berklee College of Music, Sean has had the honor of learning from some of the best music educators in the world. As teacher, Sean seeks to inspire his students by encouraging their own creativity and musical interests while building a strong foundation in the fundamentals. As a music lover without regard to genre, Sean has performed in many musical settings, from straight ahead or avant-garde jazz to blues, rock, pop, funk and classical. As a leader, Sean performs regularly with his organ trio as well as various jazz ensembles. Though jazz/improvised music plays a huge part of his musical life, Sean is also involved in various rock projects, musical theater as well as work as a session musician. Currently, Sean is working on composing and recording his original music as well as performing in the LA area.

Wednesdays 1:30pm-8:30pm, Sunday 1:30pm-5:00pm

---
Dr. Ken Nagatani (guitar)
Received both a Master of Music and a Graduate Performance Diploma from the Peabody Conservatory of Music, where he studied with Manuel Barrueco, and completed the Doctor of Musical Arts degree at the University of Southern California in 2006 as a student of William Kanengiser. While at USC, he was the recipient of the Mary Pickford Foundation Endowed Scholarship in Classical Guitar and the Jack Marshall Memorial Scholarship. Ken has been active as a teacher and performer in Los Angeles area for the past 17 years, and is currently an adjunct instructor at East Los Angeles College, Long Beach City College, and Glendale City College.

Wed 1:30pm-8:30pm, Saturday 9:00am-5:00pm

---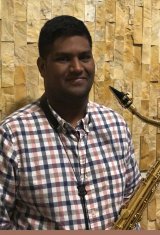 Joshua Jerome (saxophone, clarinet, flute)
Is featured as the lead tenor saxophonist in the LA Swing Barons as well as member of the classical saxophone quartet Ex Sono. Josh has received numerous awards as a soloist and section player in multiple genres including Outstanding Musicianship awards from the Riverside Jazz Festival and the Fullerton College Jazz Festival as well as winning the state MTNA chamber music competition in California. As a student at California State University Fullerton, Josh played principal saxophone for Symphonic Winds and First Tenor for the Fullerton Jazz Orchestra while studying with Damon Zick and Jeff Ellwood. Josh has performed with artists such as Bob Mintzer, Joe LaBarbera, Francisco Torres, and Scott Robinson. .

Monday, Wednesday, Thursday, Saturday 9am-5pm, Sunday 12pm-4pm

---
Dr. Caster J. Teoh (trumpet, brass)
Hails from Penang, Malaysia, Caster started playing the violin when he was 6 years old but switched to the trumpet in 1997. Caster was serving as principal trumpet in the Penang Symphony Orchestra from 2000-2002. In 2015, he was appointed Principal Trumpet with Dream Orchestra of Los Angeles and has been performing with this wonderful ensemble since then. Since coming to the United States, Caster has appeared in numerous orchestras, including the American Youth Symphony, Orange County Symphony, Santa Monica Symphony, Quad City Symphony, Cedar Rapids Opera, West Coast Chamber Orchestra etc. While in college, he was one of the finalists in the Maia Quartet competition and was awarded outstanding Pi Kappa Lambda award in 2007. Caster has been performing with many professional ensembles, including the Malaysian Philharmonic Orchestra, Brazilian Symphony Orchestra, National Orchestra of Malaysia, Kumamoto International Orchestra, etc. under numerous conductors and artists, such as Kees Bakel, Michael Tilson Thomas, Kurt Mazur, Dame Kiri Te Kanawa, Kazuyoshi Akiyama, and many more. During the summers, he has performed in many countries, including Brazil, Italy, Japan, Korea, Belgium, Taiwan, Australia, Thailand, Canada, etc. A doctorate graduate from the USC Thornton School of Music, Caster was inducted as a member of the Phi Beta Kappa Honor Society in 2007 and 2013. While at school, he was also a Fulbright scholarship student and has been awarded 2013 outstanding Brass Chamber Music award. For the past summers, Caster has been performing in many world-class music festivals, including the International Winter Music Festival in Brazil, Alba music festival in Italy, etc. In 2014, he was invited to perform Bach's Brandenburg Concerto No. 2 with West Coast Chamber Orchestra. His primary teachers include Andrew Balio, Boyde Hood, David Greenhoe, John Bourque and William Theis. Aside from being an orchestra musician, Caster has also served as Music Director/ Conductor of the Youth Symphony West Orchestra, Brass Coach at California Summer School for the Arts and Adjunct Professor of Brass at Grace Mission University. Caster is a much sought after teacher of trumpet. His students have won numerous music awards, admitted to credited universities, such as Michigan University, Eastman School of Music, University of California, Los Angeles, Cal state University at Northridge, etc. At the same time, Caster's students also performed in music festivals, orchestras and competitions throughout the country, including the International Trumpet Guild competition, Colburn Youth Symphony and Jazz Orchestra, Pacific Youth Symphony, Idyllwild Music Academy, Colorado Youth Jazz Ensemble, etc. Fluent in Mandarin.

Wednesday 3pm-6pm, Friday 2:00pm-6:00pm, Saturday 2:00pm-3:30pm
---
Fernanda Fuentes (percussion, drumset)
(percussion, drumset)
Growing up in Curico Chile, Fer learned to love and appreciate the rhythms of her home country from cumbia, and cueca to salsa and Latin rock/pop. She played and recorded with the Latin Grammy and MTV awards nominated girl band MammaSoul, and toured through Europe and South America with the girl band LaBanda en Flor. Fer moved to LA 4 years ago and her exceptional skill and passion for music has gotten her to perform with artists like Lauren Jauregui from Fifth Harmony (on her South American Tour opening for Halsey), world famous reggaeton artist Becky G., Thalia at the Forum LA, Debbie Gibson on her tour in Chile, Indonesian pop star Inul Daratista, Jorge Blanco, Abraham Laboriel and Oscar Hernandez among others. Fer is currently endorsed by TRX Cymbals, DW Drums, Vic Firth and MEE Audio.

Monday 4:00pm-8:30pm, Tuesday 4:00pm-8:30pm

---
Kenny Elliott (percussion, drumset)
Kenny's career as a professional drummer began at age 12 when he performed under the direction of the Red Saunders Orchestra at the Regal Theater. He was the staff drummer for Brunswick Records while teaching at the American Conservatory before moving to Los Angeles. Kenny toured with such greats as Lou Rawls, Aretha Franklin and Natalie Cole and performed with Ella Fitzgerald, Lucy Arnez, Diahann Caroll, Carol Channing, Ray Charles, Al Green, Eddie Harris, Al Jarreau, Chaka Kahn, Cheryl Lynn, Billy Preston, Helen Reddy, Dionne Warwick, and Stevie Wonder among others. He enjoys teaching and working with people.

Monday-Wednesday 1:30pm-5:30pm, Saturday 11:30am-3:30pm, Additional availability upon request

---
Quentin Dennard (percussion, drumset)
Quentin Dennard was born in Detroit, Michigan, and started his career in the late 1960s as session drummer for Motown Records. In a career spanning more than half a century, he has performed with multitude of music legends including Aretha Franklin, Roy Ayers, Dionne Warwick, B.B. King, Issac Hayes, Lamont Dozier, Jermaine Jackson, The Originals, Billy Mitchell, Keb Mo, and The Temptations. Quentin has also worked as a drummer in musical theatre, performing in the Fullerton Opera's production of Ain't Misbehavin, as well as the Ms. California beauty pageant and the world-renowned play Jelly's Last Jam. Quentin's mastery of many styles of music helps his students learn to "feel" each style, so that when they are called into a performance or recording session, they are not only ready to sight-read in any style, but to excel and impress.

Tuesday 1:30pm-8:30pm

---
Jonathan Lacayo (voice, piano, children)
Jonathan, a lyric tenor and San Diego native, studied vocal performance (B.A.) under Dr. John Craig Johnson and vocal coach Ines Irawati at Point Loma Nazarene University. Before finishing his studies, Jonathan had become an accomplished teacher. At the age 18 he began directing his church choir and by the following year had become the Director of Worship Ministries (Centro Cristiano La Palabra.) In the middle of his junior year of college he had been offered a teaching position at the Recreational Music Center in San Diego. There he created a Vocal Arts Summer program and helped create school curriculums through their school site programs, establishing a vocal curriculum at the Saint Charles Borromeo Catholic Academy. Furthermore, Jonathan has sung with Diego Opera's university partnership program Opera Exposed! and outreach program Opera on Track under the direction of Dr. Nicholas Reveles.
Jonathan has had the privilege of being invited to sing throughout the United States and internationally in Mexico. He made his U.S. Debut with Long Beach Opera, March 2016, in the role of "Wissam" in of Heather Raffo & Tobin Stokes' Fallujah, an opera inspired by the story of U.S. Marine Christian Ellis in the Iraq War. He reprised the role in his debut with New York City Opera November 2016. Jonathan made his international debut with Opera de Tijuana in the role of "Joe" in Gershwin's Blue Monday October 2015. Other roles include Long Beach Opera as "Man 1" in Robert Xavier's west coast premier of Frida (2017); Opera Theatre of the Rockies: "Radames" in Verdi's Aida (2017/scene), "Goro" in Puccini's Madama Butterfly (2017/scene), "Pylade" in Gluck's Iphigénie en Tauride (2017/scene); Lensky in Tchaikovsky's Eugene Onegin (2015/Act 1), Don Jose in Bizet's Carmen (2015/scene); San Diego Opera's Opera on Track as "Don Ramiro" in Rossini's Cenerentola 2016/Act 1); Point Loma Opera Theatre: "Parpignol" in Puccini's La Boheme (2015), "Prince Charment" in Massenet's Cendrillon (2014), "Beppe" in Donizetti's Rita (2014), "Giuseppe" in Loesser's Most Happy Fella (2013), "Aeneas" in Purcell's Dido and Aeneas (2012) understudy for "Camile" in Lehar's Die Lustige Witwe (2012) and "Don Anchise" in Mozart's La Finta Giardiniera (2011). Fluent in Spanish.

Monday-Wednesday 1:30pm-8:30pm, Friday 1:30-6:30, Saturday 9am-5pm

---
ALSO AVAILABLE UPON DEMAND:
---
Jiaxin (Aria) He (piano)
Received her Bachelors of Music in Music Education at the Xinghai Conservatory of Music in Guangzhou, China. She was invited to perform in the highly selective Outstanding Student Graduation Concert of 2013. In 2015, Jiaxin received her Masters of Music in Piano Performance at the University of Massachusetts, Amherst on full Scholarship. She has extensive experience working with students of a variety of ages and backgrounds, both in China and the US. While in China, Jiaxin operated her own private studio, with students ranging from preschool ages to adult. During her time at the University of Massachusetts, Amherst, she worked with advanced undergraduates to further their technique and mastery of performance. Jiaxin enjoys working with students of all ages, and uses their personal interests and passions to draw connections in music. Fluent in Cantonese and Mandarin.

Member MTAC


---
Carolyn Iga
(President, Piano, Kindermusik)
Grew up teaching herself to play the ukulele at the age of 4, and taking formal piano lessons at the age of 7. She became the lead trumpet in the Hawaii State Junior Orchestra, Concert Band, Marching Band and Jazz Band. Carolyn earned a Bachelors in Music Education from the University of Hawaii and a Masters in Church Music with a major on piano and choral conducting from The Southern Baptist Theological Seminary and a Masters in Divinity from Fuller Theological Seminary. In 2000 she opened Neighborhood Music School, teaching piano to kids in her neighborhood and expanding to studios in Malibu, Santa Clarita, San Gabriel, and Arcadia. She worked with mommy and me classes and has coached beginner students all the way through the advanced level of the Certificate of Merit exam and her students have received 100% music theory awards. Her piano students have been distinguished by their lyrical melody lines. She coaches intermediate students to see the chord structures their music, in order to venture off the piano score and improvise, a technique which is essential in church music. After opening her Arcadia school she began studying Mandarin and has since devoted her life to relief work in China. She coaches piano, vocal, and theory students when she is in town. Fluent in Mandarin.
Member MTAC, accepts new students only upon special request
---