Jiaxin (Aria) He (piano)
Received her Bachelors of Music in Music Education at the Xinghai Conservatory of Music in Guangzhou, China. She was invited to perform in the highly selective Outstanding Student Graduation Concert of 2013. In 2015, Jiaxin received her Masters of Music in Piano Performance at the University of Massachusetts, Amherst on full Scholarship. She has extensive experience working with students of a variety of ages and backgrounds, both in China and the US. While in China, Jiaxin operated her own private studio, with students ranging from preschool ages to adult. During her time at the University of Massachusetts, Amherst, she worked with advanced undergraduates to further their technique and mastery of performance. Jiaxin enjoys working with students of all ages, and uses their personal interests and passions to draw connections in music. Fluent in Cantonese and Mandarin.

Member MTAC

Tuesday-Thursday 1:30pm-8:30pm, Friday 2:00pm-5:30pm, Saturday 9am-5pm

---
David Orr
(piano)
A New England native, received a Bachelor of Arts in both Piano Performance and Music Theory from the University of New Hampshire, and holds a Masters of Music in Composition from the University of Massachusetts, Amherst. He has studied and performed internationally with concert pianists from the top music schools in the country, including New England Conservatory and Juilliard. He has also received awards from several prestigious piano competitions, including the American Fine Arts Festival (held in Weill Hall at Carnegie Hall). In addition to performance, David is an active composer for film, television, and video games, with dozens of clients including HBO and Activison. His video game music has been performed internationally, with a 2015 performance at the Dutch Game Music concert in the Netherlands. With extensive academic training in the art of composition, he also regularly composes concert music. He completed his first symphony The Alchemist in 2014, which was recorded by the The University of Massachusetts, Amherst Symphony Orchestra. David brings his diverse musical experience to his lessons, providing students with a well-rounded education in performance, theory, and analysis. Having taught in a variety of private and group settings -- from preschool lessons to university lectures -- He draws from all of these environments to provide a comfortable, relevant, and engaging environment for his students. You can find out more about David and his work at
www.davidorr.net
.
Member MTAC
Monday-Thursday 1:30pm-8:30pm, Friday 2:00pm-5:30pm, Saturday 9am-5pm, Sunday 9am-12pm
---
Gary Blumer
(piano, composition)
Holds a masters degree in Composition from Wayne State University, he's been performing at the piano for over 35 years in jazz, classical and pop genres. Band leader, freelance pianist, composer/arranger and educator - having taught at WSU for 13 years - are all areas in which Gary has many years of experience.
www.myspace.com/garyblumerjazzpiano
Member MTAC
Tuesday, Thursday 1:30pm-8:30pm, Saturday 9am-6pm (Arcadia);
Monday, Wednesday 11am-8:30pm (Burbank)
---
Bilinda Lou
(piano)
Started playing the piano at the age of five, Bilinda has studied piano, attending the Macao Conservatory in China as a piano performance pre-college student. She then went to Wright State University in Ohio where she received her Bachelors in Music in piano performance and then to the University of Colorado, Boulder where she finished her masters degree also in piano performance. Besides piano, Bilinda also studied orchestral percussion throughout college and has performed in Vienna, Salzburg, Australia, Singapore, Taiwan, and China. Bilinda enjoys teaching students from beginning to advanced level with musical training of technique, musicianship, theory, and sight-reading. Fluent in Cantonese and Mandarin.
Enjoy this amazing piano piece by one of our esteemed teachers Bilinda Lou performing Schumann Vienna Carnival, op 26
https://www.youtube.com/watch?v=1lkD8uhpzKw&feature=youtu.be
Member MTAC
Wednesday, Thursday 1:30-8:30, Friday 1:30-6pm, Saturday 10am-3pm, Sunday 1pm-4pm
---
Dr. Cagdas Soylar (piano)
Cagdas, born in Izmir, Turkey, moved to the capital city of Ankara, at the age of 11 by herself to enroll in the H.U Ankara State Conservatory where she studied the piano for 10 years. After completing her bachelor's degree in piano performance, she worked as an accompanist at the same conservatory and taught piano at the universities and many private institutions for several years in Turkey. After being awarded "The Geraldine Pickerell Gordon Music Fund Scholarship" toward her graduate studies in piano performance, Soylar traveled to the United States and began studying with Dr. Reena Natenberg at Pittsburg State University in 2009.
In 2009, Soylar was awarded 2nd place in the Collegiate State Artist Competition–Graduate Division. In 2010, she was selected as a soloist by the State Symphony Orchestra and performed in the 2010-2011 season. In the same year, she was nominated for the Pittsburg Area Student Employee of the year by the First Christian Church, where she worked as a pianist for 3 years. In 2011, she was awarded "Excellence in Professional Service" by the Pittsburg State University Department of Music.
Soylar completed her graduate studies with the "Outstanding Student Award" and was granted membership in one of the most prominent national music honor societies in the U.S. created by the Alumni of the Northwestern University School of Music in Chicago, IL in 1918, because of her superior attainment in music and the ''personal qualifications pertaining to an outstanding exponent of the arts." Since then, she has performed as a solo pianist and a collaborative pianist in many countries in Europe, Canada, and China, including China's National Center for the Performing Arts Hall in Bejing, one of the most prestigious concert halls in the world.
In 2013, she began her doctoral studies in piano performance, studying with Dr. Paolo Susanni at the conservatory in Izmir, Turkey and completed it in 2017. In 2016, she also completed her second master's at Azusa Pacific University in Keyboard Collaborative Arts, studying with Dr. Joel Clifft. Currently, she is working on her Artist Certificate program in piano performance at APU studying with Dr. Eugene Alcalay, one of the famous Steinway artists. She has been working as an accompanist at APU since 2014 and at First Thai Presbyterian Church in Covina as a pianist since 2015. Fluent in Turkish.

Thursday 1:30pm-8:30pm, Saturday 9am-5pm, Sunday (Monterey Park) 3pm-7pm

---
Dr. Kristin Caliendo
(flute, piano, voice, children's fundamentals)
Earned her Doctorate of Musical Arts from Claremont Graduate University in 2016, Master's of Music in flute performance from Arizona State University in 2005, and her Bachelor's of Arts from Grand Canyon University in 2003 where she graduated Summa Cum Laude. The winner of the Bay View Music Festival concerto competition and two-time winner of the Maricopa Community College "Outstanding Performers Instrumental Competition," Kristin is currently teaching at Neighborhood Music School and at her home in San Dimas, CA. She also performs with her husband, composer and guitarist Christopher Caliendo at a variety of local and national events. Kristin strives to provide her students with instruction and experience to develop musical proficiency in both music performance and knowledge in an encouraging, positive, and enjoyable atmosphere.
Saturday 9:00am-1:00pm
---
Margaret (Shuk Ming) Li (piano)
Completed her undergraduate studies with highest honors at the University of Illinois at Campaign Urbana, and obtained her Masters in Music degree from Chinese University of Hong Kong where she minored in musicology. She is a skilled classical and church pianist with over twenty years of musical study and over 12 years teaching experience, ranging from early childhood classes, to university musicology lectures. She brings this versatility into her private and group lessons. Her students thoroughly enjoy music through experiencing her enthusiasm and passion for high standards and enjoyable education. Fluent in Cantonese and Mandarin.

Member ABRSM, MTAC

Monday 12:00pm-3:30pm, Wednesdays 12pm-3:30pm

---
Albert Romero (violin)
is a Los Angeles native who attended Los Angeles County High School of the Arts and earned a BFA and MA from the California Institute of the Arts. Albert has performed for the Santa Monica Symphony, Brentwood-Westwood Symphony, West LA Symphony, and Opera Santa Barbara. Most recently, Albert has been featured in the string section for Draco Rosa's new album VIDA and has played in Marco Antonio Solis' most recent concert tour.

Sunday 3pm-6pm, Thursday 1:30pm-8:30pm



---
Jason Lee
(guitar)
Jason Lee (Geunsu Lee) Born in Seoul, South Korea, he moved to Los Angeles to pursue a Master's Degree in Studio/Jazz studies at the University of Southern California. With over ten years of teaching experience, Jason Lee is now thrilled to teach guitar and ukulele at the Neighborhood Music School. He previously earned a Bachelor's degree from Conservatorium van Amsterdam in the Netherlands. He has performed with the USC Thornton Jazz Orchestra, directed by Bob Mintzer and Tuesday Night Combo, directed by Vince Mendoza. He performed with both of these ensembles at the Monterey Next Generation Jazz Festival in 2016 and 2017.
Monday, Wednesday, Thursday 1:30-8:30pm
---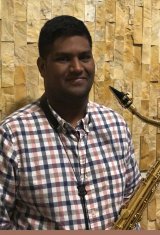 Joshua Jerome (saxophone, clarinet)
Is featured as the lead tenor saxophonist in the LA Swing Barons as well as member of the classical saxophone quartet Ex Sono. Josh has received numerous awards as a soloist and section player in multiple genres including Outstanding Musicianship awards from the Riverside Jazz Festival and the Fullerton College Jazz Festival as well as winning the state MTNA chamber music competition in California. As a student at California State University Fullerton, Josh played principal saxophone for Symphonic Winds and First Tenor for the Fullerton Jazz Orchestra while studying with Damon Zick and Jeff Ellwood. Josh has performed with artists such as Bob Mintzer, Joe LaBarbera, Francisco Torres, and Scott Robinson. .

Monday, Tuesday, Friday 1:30pm-8:30pm, Saturday 9am-5pm, Sunday 12pm-4pm

---
Dr. Caster J. Teoh (trumpet, brass)
Hails from Penang, Malaysia, Caster started playing the violin when he was 6 years old but switched to the trumpet in 1997. Caster was serving as principal trumpet in the Penang Symphony Orchestra from 2000-2002. In 2015, he was appointed Principal Trumpet with Dream Orchestra of Los Angeles and has been performing with this wonderful ensemble since then. Since coming to the United States, Caster has appeared in numerous orchestras, including the American Youth Symphony, Orange County Symphony, Santa Monica Symphony, Quad City Symphony, Cedar Rapids Opera, West Coast Chamber Orchestra etc. While in college, he was one of the finalists in the Maia Quartet competition and was awarded outstanding Pi Kappa Lambda award in 2007. Caster has been performing with many professional ensembles, including the Malaysian Philharmonic Orchestra, Brazilian Symphony Orchestra, National Orchestra of Malaysia, Kumamoto International Orchestra, etc. under numerous conductors and artists, such as Kees Bakel, Michael Tilson Thomas, Kurt Mazur, Dame Kiri Te Kanawa, Kazuyoshi Akiyama, and many more. During the summers, he has performed in many countries, including Brazil, Italy, Japan, Korea, Belgium, Taiwan, Australia, Thailand, Canada, etc. A doctorate graduate from the USC Thornton School of Music, Caster was inducted as a member of the Phi Beta Kappa Honor Society in 2007 and 2013. While at school, he was also a Fulbright scholarship student and has been awarded 2013 outstanding Brass Chamber Music award. For the past summers, Caster has been performing in many world-class music festivals, including the International Winter Music Festival in Brazil, Alba music festival in Italy, etc. In 2014, he was invited to perform Bach's Brandenburg Concerto No. 2 with West Coast Chamber Orchestra. His primary teachers include Andrew Balio, Boyde Hood, David Greenhoe, John Bourque and William Theis. Aside from being an orchestra musician, Caster has also served as Music Director/ Conductor of the Youth Symphony West Orchestra, Brass Coach at California Summer School for the Arts and Adjunct Professor of Brass at Grace Mission University. Caster is a much sought after teacher of trumpet. His students have won numerous music awards, admitted to credited universities, such as Michigan University, Eastman School of Music, University of California, Los Angeles, Cal state University at Northridge, etc. At the same time, Caster's students also performed in music festivals, orchestras and competitions throughout the country, including the International Trumpet Guild competition, Colburn Youth Symphony and Jazz Orchestra, Pacific Youth Symphony, Idyllwild Music Academy, Colorado Youth Jazz Ensemble, etc.

Wednesday 3pm-6pm, Friday 2:00pm-6:00pm, Saturday 2:00pm-3:30pm

---
Joan Quinto (percussion, drumset)
Is a passionate drummer, percussionist, and teacher. She plays any genre and performs regularly all over Southern California. She also performed with Gwen Stefani on television shows including Saturday Night Live, Good Morning America, David Letterman, MTV TRL, and the Ellen Show. Joan earned her Bachelors of Music in Percussion Performance from the Bob Cole Conservatory of Music at CSU Long Beach. Some of the teachers she studied with are Lynn Vartan, Michael Packer, Brad Dutz, Ricky Lawson, and Mike Shapiro.

Monday 4:00pm-8:30pm, Wednesday 4:00pm-8:30pm

---
Kenny Elliott (percussion, drumset)
Kenny's career as a professional drummer began at age 12 when he performed under the direction of the Red Saunders Orchestra at the Regal Theater. He was the staff drummer for Brunswick Records while teaching at the American Conservatory before moving to Los Angeles. Kenny toured with such greats as Lou Rawls, Aretha Franklin and Natalie Cole and performed with Ella Fitzgerald, Lucy Arnez, Diahann Caroll, Carol Channing, Ray Charles, Al Green, Eddie Harris, Al Jarreau, Chaka Kahn, Cheryl Lynn, Billy Preston, Helen Reddy, Dionne Warwick, and Stevie Wonder among others. He enjoys teaching and working with people.

Monday 1:30pm-5:30pm, Wednesday 1:30pm-5:30pm, Saturday 11:30am-3:30pm, Additional availability upon request

---
Jonathan Lacayo (voice, piano, children)
Jonathan, a lyric tenor and San Diego native, studied vocal performance (B.A.) under Dr. John Craig Johnson and vocal coach Ines Irawati at Point Loma Nazarene University. Before finishing his studies, Jonathan had become an accomplished teacher. At the age 18 he began directing his church choir and by the following year had become the Director of Worship Ministries (Centro Cristiano La Palabra.) In the middle of his junior year of college he had been offered a teaching position at the Recreational Music Center in San Diego. There he created a Vocal Arts Summer program and helped create school curriculums through their school site programs, establishing a vocal curriculum at the Saint Charles Borromeo Catholic Academy. Furthermore, Jonathan has sung with Diego Opera's university partnership program Opera Exposed! and outreach program Opera on Track under the direction of Dr. Nicholas Reveles.
Jonathan has had the privilege of being invited to sing throughout the United States and internationally in Mexico. He made his U.S. Debut with Long Beach Opera, March 2016, in the role of "Wissam" in of Heather Raffo & Tobin Stokes' Fallujah, an opera inspired by the story of U.S. Marine Christian Ellis in the Iraq War. He reprised the role in his debut with New York City Opera November 2016. Jonathan made his international debut with Opera de Tijuana in the role of "Joe" in Gershwin's Blue Monday October 2015. Other roles include Long Beach Opera as "Man 1" in Robert Xavier's west coast premier of Frida (2017); Opera Theatre of the Rockies: "Radames" in Verdi's Aida (2017/scene), "Goro" in Puccini's Madama Butterfly (2017/scene), "Pylade" in Gluck's Iphigénie en Tauride (2017/scene); Lensky in Tchaikovsky's Eugene Onegin (2015/Act 1), Don Jose in Bizet's Carmen (2015/scene); San Diego Opera's Opera on Track as "Don Ramiro" in Rossini's Cenerentola 2016/Act 1); Point Loma Opera Theatre: "Parpignol" in Puccini's La Boheme (2015), "Prince Charment" in Massenet's Cendrillon (2014), "Beppe" in Donizetti's Rita (2014), "Giuseppe" in Loesser's Most Happy Fella (2013), "Aeneas" in Purcell's Dido and Aeneas (2012) understudy for "Camile" in Lehar's Die Lustige Witwe (2012) and "Don Anchise" in Mozart's La Finta Giardiniera (2011).

Fluent in Spanish.

Monday-Saturday 1:30pm-8:30pm

---
Jensi Sweatt (voice)
Jensi Sweatt has been studying voice since the age of 14. She began her training under the direction of Laurie Johnson and had the benefit of studying under many great instructors over the years, most recently and notably with Pamela Hicks and Bob Rose. She received her BA in Music with a focus in Vocal Performance from CSU Hayward in 2005. In addition to vocal training and experience, Jensi also has an instrumental music performance background, having played trombone and electric bass for several years. She has also taught at private schools with From the Heart Music, and has toured internationally with both choir and jazz bands. Jensi has experience with a wide range of genres and styles including classical, opera, rock, alternative/punk, gospel, country, and pop.

Monday-Saturday 1:30pm-8:30pm

---
ALSO AVAILABLE UPON DEMAND:
---
Tany Ling (Soprano)
Is a dedicated singer of contemporary and experimental music, performing repertoire ranging from rock to opera, from the traditional to the avant-garde. She has been a featured soloist at Carnegie Hall and Madison Square Garden, and has performed on stages across North America and Europe, premiering roles in numerous chamber works and operas, including the new operas "22: Taker of the Total Chance" for Long Beach Opera; "HELL" by Michael Webster and punk poet Eileen Myles in New York, Los Angeles, San Francisco and Tijuana's CECUT; "What To Wear?" by Richard Foreman and Michael Gordon at REDCAT in Los Angeles; and "Tragedy On the Sea Nymph" at Machine Project. In 2004-2006, she toured nationwide with the multi-platinum winning rock group Trans-Siberian Orchestra, singing a rock version of the "Queen of the Night" aria from Mozart's opera The Magic Flute. She currently is a member of the Industrial Jazz Group singing avant-garde big band party music. Past groups include Ensemble Green, Arcanum, Aulos Saxophone Quartet, CalArts New Century Players and the Robin Cox Ensemble, groups dedicated to modern works, and Eighteen Squared, an ensemble specializing in the minimalist music of Steve Reich. She has been featured in numerous productions with Long Beach Opera as well as the Mircofest microtonal music concert series.

Recordings include the latest Trans-Siberian Orchestra release "Nightcastle" (Atlantic Records); "LEEF" for the Industrial Jazz Group (Evander); song cycle "Black Sky Hates the Moon" by New York composer Max Gitek Duykers; and Arcanum's "Seven Songs of Sorrow" (Black Phone Records) by Alan Lechusza. Film and video include "Avatar" (20th Century Fox) by James Cameron with music by James Horner; "Velvet and Ratskins," a short film by experimental animator Evan James; and a prized non-singing role in a music video for The Mae-Shi.

Tany earned a Bachelor of Music in classical vocal performance from the University of California in Irvine and a M.F.A. in classical vocal performance from California Institute of the Arts. She has previously been on staff with Piedmont Children's Choirs Summer Camp and Yamaha Music as a voice and music theory teacher and with Power Chord Academy and DayJams as a voice teacher and rock band facilitator.

---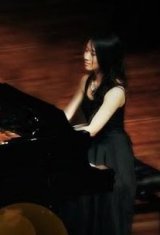 Margaret Li
(piano)
Completed her undergraduate studies with highest honors at the University of Illinois at Campaign Urbana, and obtained her Masters in Music degree from Chinese University of Hong Kong where she minored in musicology. She is a skilled classical and church pianist with over twenty years of musical study and over 12 years teaching experience, ranging from early childhood classes, to university musicology lectures. She brings this versatility into her private and group lessons. Her students thoroughly enjoy music through experiencing her enthusiasm and passion for high standards and enjoyable education. Fluent in Cantonese and Mandarin.
Member ABRSM, MTAC
Monday 12:00pm-3:30pm, Wednesdays 12pm-3:30pm
---
---
Dr. I-Ting Huang
(violin, viola, piano)
A passionate musician, the top winner of all instrumental concerto competition at the Taipei National University of the Arts and awarded second and first prize in National Viola and Chamber Competitions in Taiwan. I-Ting started the piano at age 3, the violin at age 9, the Er Hu (the Chinese two string instrument) at age 13, and majored at the piano performance until she switched to viola performance for her bachelors degree. As a full scholarship recipient, she earned her masters degree and professional studies diploma at Mannes College of Music and The New School University, New York. She is currently working on her doctorate in music from the University of Missouri, Kansas City. Her students have been selected to Hunter College-High School orchestra in New York. She has a long list of performances to her credit including being selected by the Chamber Music Society at the Lincoln Center, the Ukrainian Institute of America in New York, the Schleswig-Holstein Music Festival touring concerts in Europe, and the Prague Spring opening concert in Smetana Hall. Fluent in Mandarin.
Tuesday 3:00pm-7:00pm